What is Ayurveda?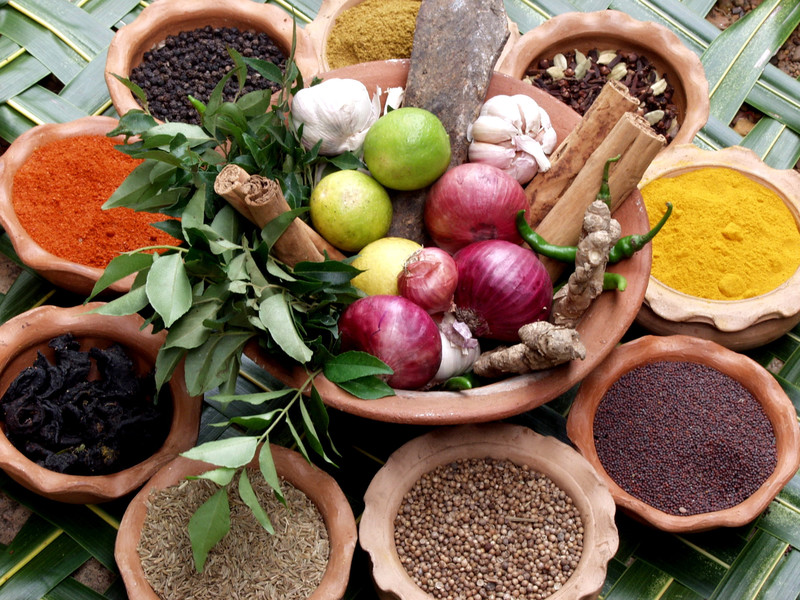 Ayurveda is the traditional medicine of India, which originated there over 5,000 years ago. Ayurveda emphasizes re-establishing balance in the body through diet, lifestyle, exercise, and body cleansing, and on the health of the mind, body, and spirit. It is considered the medical science of yoga emphasizing yogic lifestyle and ancient healing techniques into their healing modalities.
Ayurveda Considers the whole person and their environment into it's healing methods.
AYURVEDIC SERVICES WE OFFER:
Ayurvedic Treatments
Nearly 80% of the population between the age of 50 and 65 is troubled by injury, degeneration, or wear and tear of the knee, with Osteo-arthritis (OA) as the number one cause of discomfort. One of the most effective treatments in relieving the pain and rejuvenating the joint is Janu Basti, a treatment which involves warm herbal oil poured and soaked over the knee for 30 minutes followed by a skillful massage and fomentation.
Benefits: relief from pain and ache, relaxation of muscles, increase in circulation and lubrication of the joint, improvement in mobility and flexibility.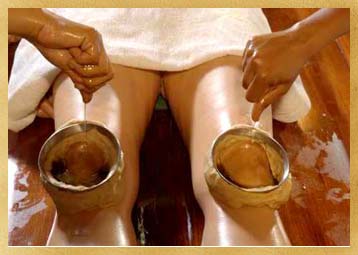 Janu Basti ( AYURVEDIC INJURY/ ARTHRITIS REPAIR) / COST: $175
One of the most effective treatment in reliving the pain and rejuvenating the joint is JANU BASTI. A procedure which involves warm herbal oil stagnated over the affected Knee for 30 minutes followed by a skillful massage and fomentation. Benefits – Pain relief, relaxation of muscles, increase in circulation in the area, lubrication of the joint, improvement in mobility and flexibility. Is also indicated as preventative care in people who are at risk, and can be administered in conjunction with conventional treatment. Ideally, a series of four to six applications are recommended when treating conditions such as sprains, ligament tears, osteo-arthritis, post surgical distress, age related degeneration and sport injuries.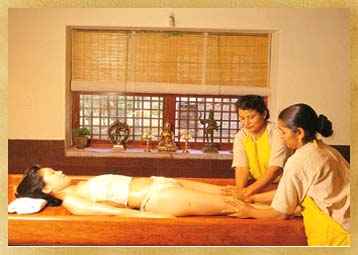 Abyhanga (AYURVEDIC MASSAGE WITH YOGIC ACCUPRESSURE)/ COST: $155
A gentle but firm rhythmic whole body massage from head to toe with one or two therapists massaging simultaneously. Warmed Ayurvedic oils are used to encourage toxins in the body towards the gastro-intestinal tract. This soothing massage is quite nourishing as it pacifies subtle unbalanced energies (doshas) in the body relieving fatigue and increasing stamina. Abyhanga oil massage enhances complexion and luster of the skin; promoting longevity and nourishing all parts of the body. A blissful experience.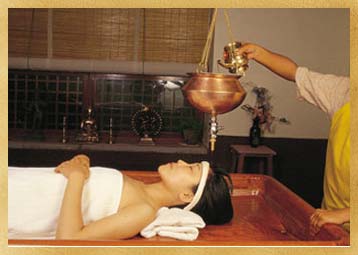 Shirodara (FULL NERVOUS SYSTEM BALANCING OIL STREAM) COST: $175
Shirodara is a 45 minute treatment where a continuous flow of warm herbal oil or milk is received over the 3rd eye and forehead, allowing you to transition into a peaceful and relaxed state of being. Helpful in balancing the emotions, dissolving stress, quieting the mind and pacifying insomnia, it can induce a state similar to that of a trance, creating profound relaxation of the mind and body. Shirodhara is even more effective when taken after abyhanga. In Jodi's style Marma (powerful yogic accupressure) will be applied prior to oil drip to make sure all channels are open ensuring a deeper experience in the nervous system.







Ayurvedic Consultation/ COST: $175
Ayurveda means "the science of life" and is about being in harmony with the rhythms of nature.In Ayurveda, we seek to understand the root cause of an imbalance in order to help alleviate the symptoms of the underlying condition or illness. Ayurveda utilizes your own body's innate wisdom to restore and maintain optimal health. By seeking the source of a patient's ailment and focusing on understanding who you are as a unique individual, Ayurvedic principles return and preserve balance to the body, mind and soul.

Consider an Ayurvedic Consultation if you:
- Have had incomplete resolution of symptoms and are seeking a natural alternative or complementary approach to your current wellness plan.

- Have the desire to learn how to make daily lifestyle and dietary choices that will positively affect your current and long-term health and well-being.

- Would like to develop the art of living in harmony with nature's rhythms, cycles, and seasons.

-Prefer to utilize your body's natural intelligence to facilitate healing.
would like to explore new ways of reaching your full self-potential!
RECIEVE:
1 hour with Doctor, Pulse Diagnosis, Constitutional Diagnosis, Diet Plan, Yoga Plan, Mantra/Meditation Practice, Herbal/ Medicinal Recommendations and Formulations as well as ongoing support from Consultant until next check up.
________________________________________________________________________________________________________________________________________
Dr. Naina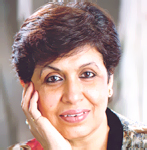 Dr.Naina Marballi, (B.S.A.M.) Ayurvedacharya Degree awarded by prestigious Bombay University (India), Post-Graduation in Advanced Esthetics from Ohio U.S.A . AADP Accreditation.
Dr,Naina Marballi who has over 32 years experience in teaching and practicing ayurveda has been conducting ayurveda workshops And AADP Accredited Certification Ayurveda Study Programs in New York-U.S.A.

Having received accreditation from the American Association of Drug less Practitioners (AADP), Dr.Naina Marballi offers a 150-hour specially designed Ayurveda Nutrition Program which certifies students to practice as Holistic Health Counselors. DR Naina Marballi `s forte is understanding and analyzing Balance of Chakras through Pulse Reading and Vedic Astrology. This gift of knowledge has been received from her Ayurveda gurus and her relentless hard work and dedication in the field of Ayurveda for the past 32 years.

Dr.Naina Marballi based in New York continues to propagate and spread authentic Ayurveda in U.S.A. as well as all over the globe , by Lecturing and Conducting Ayurveda Classes on a wide range of topics such as Ayurveda Nutrition, Healing Through the Five Senses ( Color, Sound, Aroma, Touch, Taste) Non-Invasive Ayurveda Face Lift, Ayurveda Skin-Care Product Making, Ayurveda Dinacharya, ( life style and diet style ) and Ayurveda Therapies (Panchakarma,Marma Abhyanga, Shirodhara, Stone- Abhyanga, Udvartana, Pitchalli, Kati Basti and Potli Svedan) and Ayurveda Facials in various institutions such as New York core center, Sacred stone institute in Rhode island, The Omega Institute in Rhinebeck, New York, The New York Open Center, Mount Sinai Hospital and the Cancer Treatment Division at Beth-Israel Medical Center.

In 1977, Vaidya (Dr.) Naina Marballi Graduated as a research oriented Ayurvedic Physician from Podar Ayurvedic Medical College and Research center affiliated to Bombay University in India. After acquiring her B.S.A.M., Bachelor of Shuddha Ayurvedic Medicine degree (( Ayurvedacharya ) from India's premier educational institute, she began her career as an Ayurvedic Physician with Podar Ayurveda College and research center in Mumbai, India.

In 1985, Dr.Naina Marballi came to the United States to augment her education in Ayurveda by completing the Advanced Skin Care Program conducted in Ohio U.S.A. Mastering this one-of-a-kind modern Skincare education and having an authentic knowledge of Holistic Beauty and Wellness that is the core of Ayurveda philosophy, Dr.Naina- Marballi envisioned a merging of the two that manifested as a First of its kind Ayurveda Wellness and Skin care Center in the heart of Mumbai. Dr.Naina Marballi soon became renowned as an authority in both the Ayurveda community and Skin care sector of Indian commerce.

Dr.Naina Marballi developed, tested and certified hair and skincare product lines in strict compliance with ancient Ayurvedic guidelines and conducted clinical trials for prestigious pharmaceutical companies bringing high quality Ayurvedic products to the global market.
Being an Expert in Pulse Reading , Chakra Balancing and Vedic Astrology, Dr.Naina Marballi also formulated an Educational System that is founded on the Four Pillars of Ayurvedic Nutrition based on an Individual's Unique Constitution.

1) Analysis of the Quantum Intelligence present in Nutritive Foods (Customized Diet Chart)
2) Yoga/Exercise- -Customized Yoga Postures/ Asanas
3) Pranayama–Breath Awareness
4) Sleep and Meditation

Her refreshingly expert approach to the ancient mysteries of Ayurveda by Healing through the five senses is the hallmark of her instructional style, introducing thousands of clients to the concept of Prevention of Diseases and Maintenance of good Health of the body, mind and consciousness.
Dr. Naina Marballi formed an Ayurveda Nutrition and Skin Care Center based in Mumbai. Her faithful client list includes various media personalities, actors, models, and people from all walks of life who are passionate about personal enhancement through natural means. With increasing attention from the public-at-large came media opportunities such as the popular Indian TV program " Meri Saheli" hosted by the famous Indian actress Hema Malini, as well as other talk-shows, and numerous publications and quotations in nationally-circulated newspapers and magazines such as The +Times of India, Mid-Day, Nava Bharat Times and Femina.
Dr. Naina Marballi's matchless combination of Ayurveda knowledge and Esthetics education, expressed over 32 years of applied experience and commitment reveals the timeless bounty of Ayurveda knowledge that she has been imparting to hundreds of students.
________________________________________________________________________________________________________________________________________
Jodi Polevoy- Ayurvedic Consult/ Treatment Specialist
Jody Polevoy is a healing practitioner with training in both eastern and western disciplines. She holds a Master of Social Work from Hunter College School of Social Work and a BA from Columbia University.
Jody is also a NY State licensed massage therapist, and has completed extensive training in clinical massage, yoga therapy and Ayurveda